AG23036T-2 - TCT Circular Saw Blades : TCT Saw Blade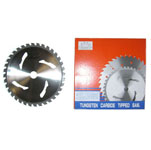 We are an expert Taiwan manufacturer, supplier and factory, which has been experienced for producing TCT Circular Saw Blades products etc. We aim at serve our customers in the finest quality products, competitive price with prompt delivery. Customer's growth is our growth and we'd like to create mutual benefits for each other in long term cooperation. We always ensure dedicated products through quality control and keep to breed professional workers. Please be free to contact with us for more details.
Model: AG23036T-2
TCT Circular Saw Blades
Long-life Tungsten Carbide-tipped Used.
Fully hardened body adds stability
Precision balance
Material: Softwood ,Hardwood, Aluminum ,non-ferrous metals, Mild steel
Our capacity range offers a wide variety of quality blades for wood, non-ferrous metal, Aluminum for a number of cut types. Like Reduction Rings available for specific bore sizes. Or manufactured by laser technology and other special designs(Anti-Kick.etc) can be manufactured according to the customer's requirements
Tooths:
Less teeth: Preferred for ripping along the grain of hard and soft
wood and other wood based material.
Coarser finish.
Faster feed rate.
More teeth: Preferred for cutting across grain of hard and soft wood.
Finer finish.
Slower feed rate.
Wood cutting